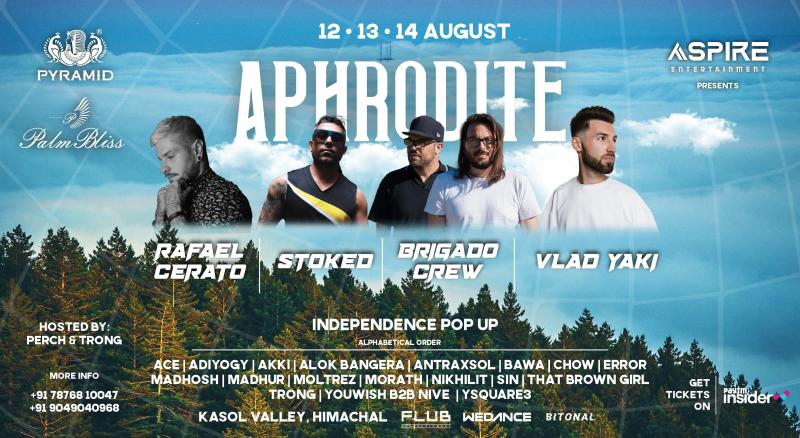 Aphrodite Festival is back in Himachal, on 12th- 13th and 14th August!
Brace yourselves as we embrace the heat and drop some techno beats with Aphrodite Festival this Independence day weekend at Pyramid Kasol Valley
Get ready to travel into the world of electronic music! A three day musical journey awaits you with a specially curated lineup featuring some of finest the artists internationally & locally as well.
Final Lineup Out Now!
HEADLINERS
• Rafael Cerato
• Brigado Crew
• Stoked
• Vlad Yaki
ALSO FEATURING...
ACE
Aadiyogymusic
DJ Akki
Alokbangera
Antraxsol
Officialdjbawa
CHOW
Errorizme
Madhoshofficial
MADHUR
Moltrez
Nikhilit
Djsin
That Brown Girl
Trong
Youwishmusic
Niveditalakraa
Ysquar3
For table booking and more info:
????: +91 7876810047
+91 9049040968
+91 8169914764
Follow us on Instagram @aphrodite.festival
Watch this space for more updates!!

461 total visits
EVENT
DETAILS
Start Date:

August 25, 2022 19:35:00

End Date:

August 25, 2022 22:35:00

Type:

RSVP

Location:

Pune

Category:

Events

Organizer :

Address:

PYRAMID KASOL VALLEY, Kasol

461 Page

Views