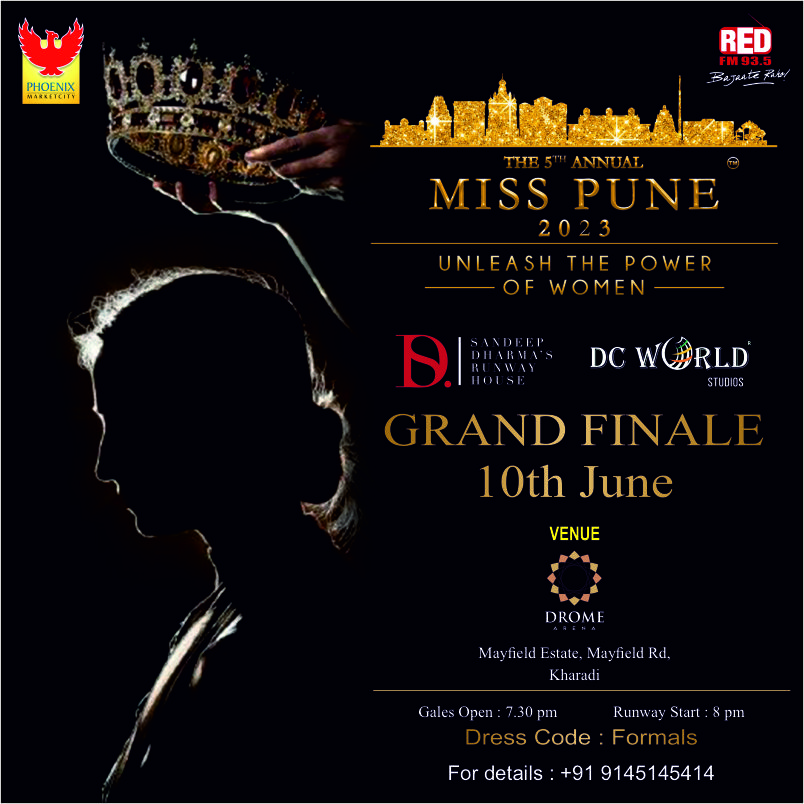 Welcome to the grand extravaganza of Miss Pune 2023, the ultimate beauty contest showcasing the grace, elegance, and intellect of Pune's finest women. This prestigious event promises to be a dazzling evening filled with glamour, talent, and the celebration of feminine beauty.
The Miss Pune 2023 Beauty Contest aims to empower and recognize the exceptional women of Pune who possess not only external beauty but also inner strength, confidence, and the ability to make a positive impact on society. Contestants will compete in various rounds, where their beauty, intelligence, poise, and talent will be evaluated by a distinguished panel of judges.
The event will kick off with a spectacular opening ceremony, where the stunning contestants will grace the stage in mesmerizing traditional and contemporary attires. The audience will be captivated by their beauty and charisma as they showcase their unique personalities and individual styles.
As the competition progresses, contestants will engage in a series of rounds that test their intelligence, confidence, and talent. The judges will closely evaluate their public speaking abilities, their understanding of current affairs, their creativity, and their ability to express themselves articulately. These rounds will allow the contestants to demonstrate their multifaceted qualities, proving that beauty encompasses much more than just physical appearance.
Apart from the main competition, there will also be special performances by renowned artists, adding an extra dash of excitement to the event. Spectators will be treated to mesmerizing dances, live music, and other enthralling performances that showcase the rich cultural heritage of Pune.
The climax of the event will be the crowning moment, where the deserving winner of Miss Pune 2023 will be announced. The winner will receive a prestigious title, a crown, a generous prize package, and a platform to represent Pune on a regional and national level. She will also be entrusted with the responsibility of advocating for causes close to her heart and making a positive impact on society.
Miss Pune 2023 Beauty Contest is not just a pageant; it is an opportunity for women to showcase their true potential, inspire others, and become role models for the younger generation. It is a celebration of beauty, intellect, and the power of women to create change.
So mark your calendars and join us for an unforgettable evening of glamour, talent, and empowerment at the Miss Pune 2023 Beauty Contest. Let us come together to celebrate the beauty of Pune and the incredible women who call it home.

885 total visits
EVENT
DETAILS
Start Date:

June 10, 2023 19:00:00

End Date:

June 10, 2023 22:00:00

Type:

RSVP

Location:

Pune

Category:

Events

Organizer :

Sandeep Dharma

Address:

Drome Arena, Mayfield state, Kharadi, Pune

885 Page

Views