Bollywood, Pop | Hindi | 1hr 30mins
Papon live in concert on Friday, 13th January 2023 at Dublin Square, Phoenix Marketcity, Kurla.
A singer, composer & multi-instrumentalist, Papon is one of the most sought-after voices in India today. His training in classical music and innovative experimentation in this field have made him an extremely versatile artist. Papon derives his influence from a wide array of sounds- from traditional folk to new-age electronica. A sure stage scorcher, he is bound to engage and enthrall the audience. Truly a name to reckon with in the music scene today.
Gates open at 7 pm. The concert begins at 7:30 pm.
The event is brought to you by Perfect Harmony Productions Pvt Ltd.
ARTIST: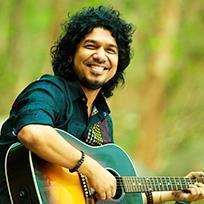 Papon (Angaraag Mahanta) is a multi-instrumentalist, composer, producer and one of the most powerful new voices in India. While rooted in folk, Papon has a wide variety of influences and is an extremely versatile artist and a composer. Papon was born in Assam, India, to a set of brilliant musicians of Assam and was introduced to music and its intricacies at a very early age. His mother Archana Mahanta and father Khagen Mahanta are two very popular and respected musicians of the region. Coming from a musically attuned family, music has always been in his blood. His inspirations came from the wide array of sound that he has been exposed to from the traditional Folk songs of Eastern India to new-age electronica. His initial training has been in Indian classical and traditional music (devotional and folk) from Assam. His innovative experiments are rich with ambient electronica, acoustic folk, electro ghazals, new-age, Ind-classical sounds. Papon has featured on both the seasons of Coke Studio India as a singer in Season I and In Season II. Apart from performing as a singerin Nitin Sawhney`s episode he also has produced one track in the multi producer episode. He is considered the `Find` of Coke Studio India. In Coke Studio Season 3 (2013), Papon is a producer of one full episode, composing & producing 6 tracks.

345 total visits
EVENT
DETAILS
Start Date:

January 13, 2023 19:00:00

End Date:

January 13, 2023 20:30:00

Type:

Promotional

Location:

Mumbai

Category:

Events

Organizer :

108.4 FM

Address:

Dublin square: Phoenix Marketcity: Mumbai

345 Page

Views