SHANTI PEOPLE LIVE WATERS
Music Shows | English, Hindi | 21yrs + | 5hrs
Pre FriendShip Day Celebrations
ABOUT THE ARTIST:
Shanti People is a music band that mix contemporary EDM (electronic dance music) with ancient Vedic Mantras.

Shanti People had played at the various World festivals such as Ozora, Sunburn Festival, Summer Never Ends, GogolFest, Ultra Vague, Kvammanga, Veda Life, Inne Brzmienia, Radhadesh Summer Holi Festival, Hedonism, Xperience Festival etc. and played live shows in Germany, Switzerland, Spain, Belgium, Czech Republic, Poland, Ukraine, Russia, India etc.
Shanti People get inspired by traveling, the best music practices in India and the sources of Vedic culture, where the music is accepted as the holy sound and is practiced as a meditation for higher reality, displayed here and now.

Uma, the vocalist of the project: Mantras do not only eliminate the worries and bring the peacefulness to the mind and heart, but also help to comprehend the nature of the consciousness, which is the most important thing in the practice of self-realization. In our music we try to express our knowledge though the common language of electronic music. We are happy that we can share this treasure with our audience.

Shanti People are all about experiments. And the latest result of those experiments is collaboration with electronic artists such as Vini Vici (track ''Karma''), Reality Test (track Passion), Droplex (track Mahishasura Mardini), Blazy and Gottinari (track Tandava). Thanks to those collabs and other DJs playing their remixes Umas voice sounds at the biggest open-air festivals of the world.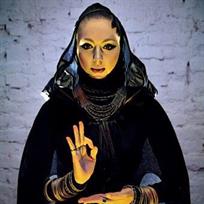 519 total visits
EVENT
DETAILS
Start Date:

August 05, 2022 19:00:00

End Date:

August 05, 2022 23:00:00

Type:

Promotional

Location:

Pune

Category:

Events

Organizer :

Address:

WATERS:Bar & Kitchen PUNE

519 Page

Views