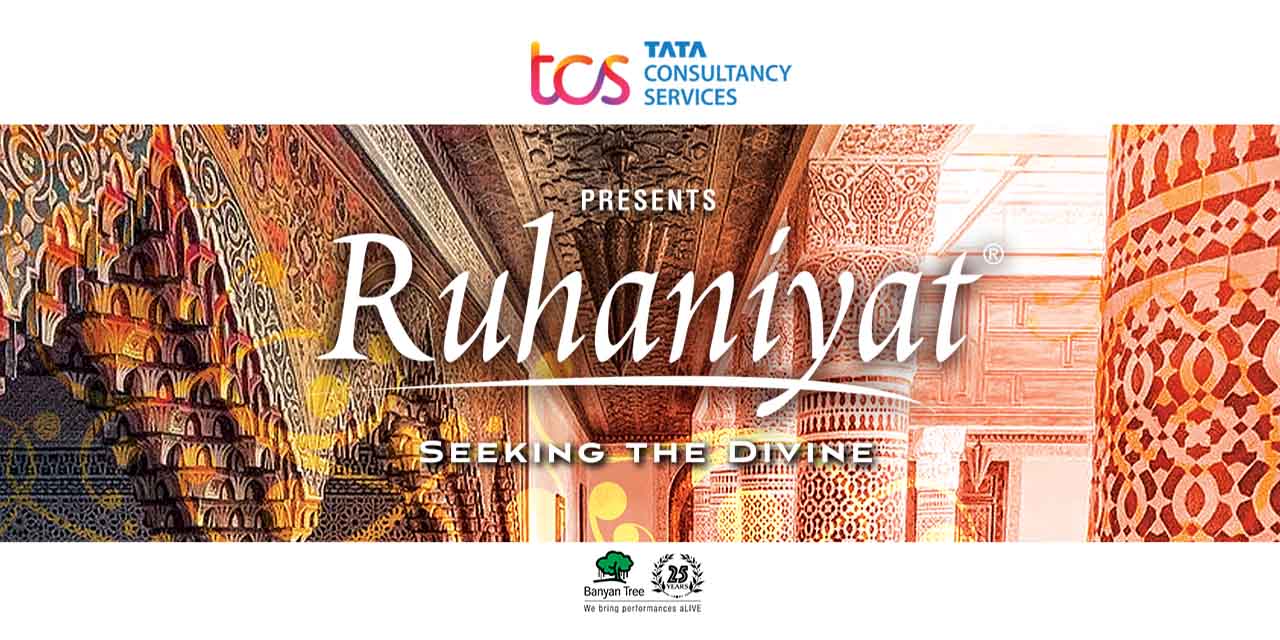 Sufi | English, Hindi | 8yrs + | 4hrs
Each passing day is bringing news which only adds to the 'wishing away' list, making the heart more anxious. How desperately we seek a silver-lining in this dark cloud engulfing all the world! One wonders, where is humanity headed?
Seeking peace, joy we find the opposite inching closer… so many questions, so much chaos, such turmoil! Battered heart wonders where to find solace..
The great realized masters, they say, knew the secret of living blissfully amidst all turmoil and gloom. Their immortal works are said to be 'Open Secrets' of living in the world and yet remaining beyond its stifling clasp.
TCS Ruhaniyat, a unique festival of mystic music, brings alive such works for music lovers in 8 different cities of India and it is back for the 22nd year with the messages of such great masters once again.
Thanks to the continued support of the National presenting partner TCS, Ruhaniyat features rare gems of living traditions from across India; some truly unheard-of talents from remote corners, bringing alive the amazingly rich intangible heritage that has travelled down millennia, mostly orally passed down from generation to generation. Besides India, the festival also features artists from other countries. So far Ruhaniyat has presented musicians from Azerbaijan, Belgium, Bulgaria, Burkina Faso, Egypt, Gambia, Guinea, Indonesia, Iran, Ireland, Mongolia, Morocco, Pakistan, Russia, Spain, Senegal, Taiwan, and Turkey.
Brainchild of Mahesh Babu, Founder Director of Banyan Tree Events, this one of its kind festival is always presented in just as unique venues across the country; for instance in Mumbai it is the lawns of the CSMVS Museum with the ancient building as the majestic backdrop, Chennai has the rustic stables surrounding the open-air arena and in Hyderabad the festival unfolds at the Taramati Baradari, an amphitheater with the ancient monument as the backdrop and so on. The finale is always in Pune in a botanical garden which looks more like a jungle and the audience and performers are surrounded by 17 ancient Banyan Trees.As the works of great masters and mystics come alive, with the power of enchanting musical presentations, they remind the listeners of the basic oneness of all creation beyond all man-made divides of class, religion, race, language, and nationality.
When you hear of the bliss the great realized masters, great mystics experienced, the unconditional love they talk of, all boundaries seem to melt away, even if for a short while… In that sense Ruhaniyat is about world peace too.
Besides the Indian artists, the festival presents two specially curated international collaborative productions 1. When Hearts Connect and 2. Mystic Pathways. The festival is among the most awaited events in India and according to the audiences it brings peace, calm and joyous serenity. It is an experience where all feel transported to another world, to another realm… to a world of love, harmony, peace, calm, equilibrium, and unity.
In other words, it is a journey crisscrossing history, geography, musical streams … a caravan of carriers of living traditions from across India and beyond… solos, Group presentations, specially curated Global Productions that melt boundaries to create Musical bridges of Universal brotherhood, love, harmony, peace & joy!
In this 22nd year the festival will once again cover all the 8 cities for all the loyal audiences
cross the country. Beginning in Mumbai as always, it will travel to Delhi, Kolkata, Bengaluru and Hyderabad in November-December 2022 and Ahmedabad, Chennai and Pune in February 2023.

355 total visits
EVENT
DETAILS
Start Date:

December 11, 2022 18:15:00

End Date:

December 11, 2022 22:15:00

Type:

Promotional

Location:

Hyderabad

Category:

Events

Organizer :

TATA Consultancy Service

Address:

Taramati Baradari Auditorium : Hyderabad

355 Page

Views