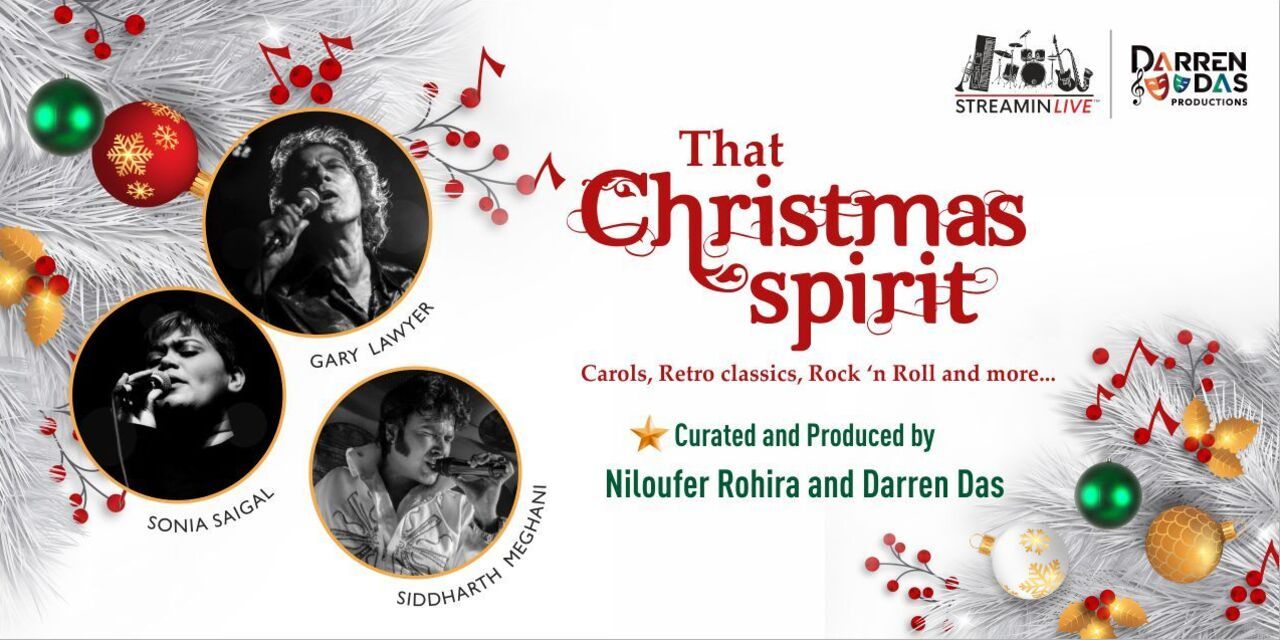 That Christmas Spirit & More..
Concerts | English | 2hrs
A live music concert on the 1st of December 2022, ushering in the festive season! The genres of music are Christmas Carols, Retro classics, Rock n Roll & more. Presenting some of the most talented vocalists and musicians in the country, this show is bound to get your feet tapping and leave your soul joyful and ready for the festive season.
ARTISTS:
THE VOCALISTS
Gary Lawyer
An Indian singer - songwriter known best for his work in Western Music and Bollywood. Also known as "The Man with the Golden Voice" he has enthralled audiences across the country and abroad and is the recipient of several music awards.
Sonia Saigal
Undoubtedly one of India's best - a powerhouse vocalist with a range and style, that elevates jazz, soul and retro music to a whole new level. Indisputably, a performer who wows her audiences with her improvisations and ability to make each song her own.
Siddharth Meghani
"The Elvis Presley" of India - has carved an enviable niche for himself with his smooth vocals, suave dance moves and his ability to bring the King of rock and roll back to life. A live-wire entertainer and complete performer.
Vivienne Pocha & Shazneen Arethna
'Viv & Shaz' features Vivienne Pocha and Shazneen Arethna as an acoustic unplugged duo. While both have a musical theatre background, it is Vivienne's Bluesy Soul and Shazneen's Pop/Rock sounds that make for an interesting collaboration.
Karen Vaswani
After learning Western Classical Piano, Karen moved onto learning jazz piano with Merlyn DSouza and legendary Jazz pianist Tony Pinto. She has played and sung with bands like Infra-Red, Crimson Rage, The Big League, Wanted Yesterday and is currently lead singer with the band Rockin' Marmalade.
Giselle Pinto
Singer, performer, songwriter, her versatility and technique enable her to shine across the genres of RnB, pop and jazz. Her immense talent and stage presence make her one of the leading and much sought-after vocalists in the country.
Darren Das
Fondly called "The Engelbert Humperdinck" of India, his rich baritone and inimitable style, raise the bar for all live performances in western music. Singer - par excellence, choreographer, voice over artist and dancer, he dons many hats successfully.
THE MUSICIANS
Shyam Raj
An accomplished and well-respected saxophonist and flautist, Shyam Raj has been playing for the last 40 years captivating audiences with his mastery and skill of the instruments. He has shared the stage with towering personalities like Mr. Amitabh Bachchan, Ms. Asha Bhosle and Mr. Adnan Sami during their live shows. Shyam Raj has played in recordings for Laxmikant Pyarelal, R.D. Burman, Ilya Raja and A.R. Rahman.
Ashley Quiney
A versatile guitarist who plays Rock, Jazz, Classical, Pop and Latin styles of Music. During his 40 year long career, he has performed with some of the top musicians of the city and has recorded several advertising jingles and albums for many artists. He performed with Don Saigal's band 'Solid Gold' and Merlin Dzouza's band 'Mantra'.
Cassy Lobo
A professional musician over the last 35 years and a much sought after drummer, he has been a part of many well-known bands. He has established his credentials by touring and performing with many leading artists like Suneeta Rao, Colonial Cousins, KK, Bombay Vikings, Rabbi Shergill and Mohit Chauhan to name a few. He is proficient in programming drums and percussion set ups using electronic drums, samplers and drum machines.
Arthur Lobo
A keyboard player and composer with over 10 years of professional experience, he has played with many good bands across India. He plays a wide range of genres including Pop, Rock, Jazz and Bollywood, and has shared the stage with artists such as Sushant Divigikar, Usha Uthup, and Mika Singh to name a few.
Russell Fernandes
Russell has been playing the bass guitar professionally, for the last 8 years. He has shared the stage with some of the finest musicians in the country during this time. Russell is an integral part of many bands in the city including some that play Gospel music. While he hones his own skills, Russell imparts his knowledge of this art, to students, teaching them bass and guitars.

377 total visits
EVENT
DETAILS
Start Date:

December 01, 2022 19:45:00

End Date:

December 01, 2022 21:00:00

Type:

Promotional

Location:

Mumbai

Category:

Events

Organizer :

st. Andrews Auditorium

Address:

St. Andrews Auditorium: Mumbai

377 Page

Views