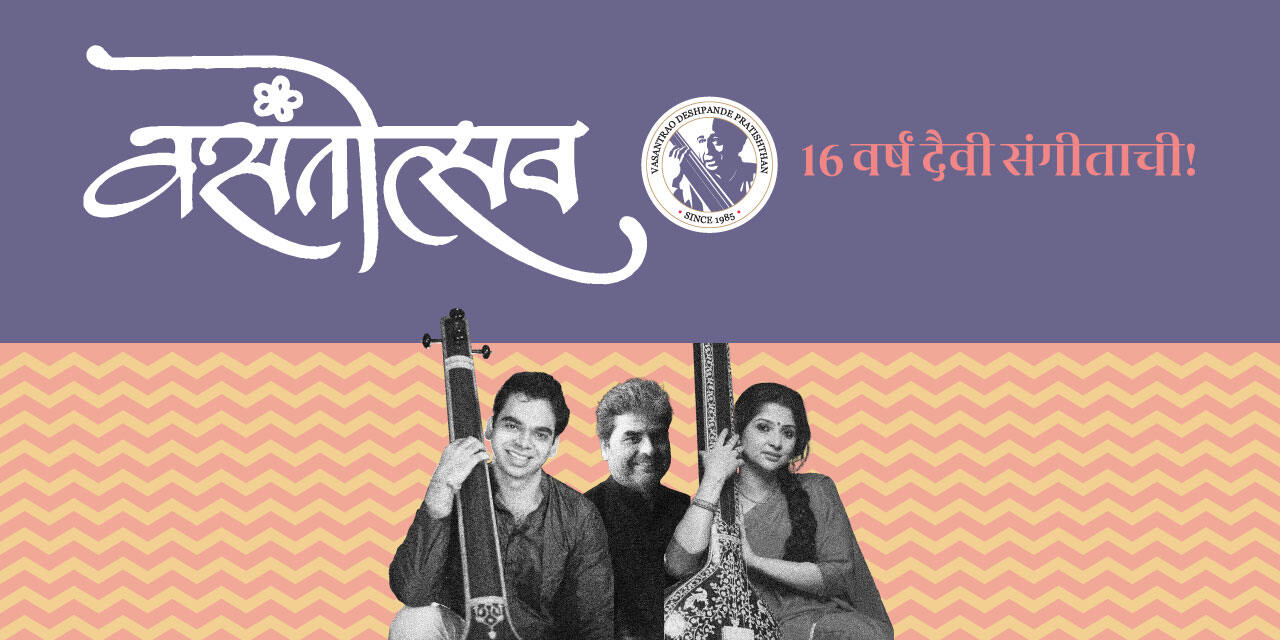 Folk, Indian Classical | Hindi, Marathi, English
The Vasantotsav is an annual Indian Classical celebration Festival where different forms of Traditional Indian music – Classical - semi-classical, folk, and light music are showcased.
The festival is organized by Dr. Vasantrao Deshpande Pratisthan, Pune, in memory of the legendary late Dr. Vasantrao Deshpande by inviting a combination of renowned artists with a mixture of next-generation rising starts to perform at this event.
The festival was started in the year 1985 on a small scale in Mumbai and later on reestablished itself in Pune in 2007 and then to date we have had successful 13 years of this festival in Pune reaching incredible heights.
Many artists have performed in the festival, such as Ustad Amjad Ali Khan, Ustad Zakir Hussain Shankar Mahadevan, Abida Parween, Mukul Shivputra, Ustad Shahid Parvez, Hariharan, Ustad Rashid Khan, Kaushiki Chakraborty, Niladri Kumar, Suresh Wadkar and many more have been a part of Vasantotsav in the lifetime of the festival alongwith with
From 2020, it has been our pleasure to take Vasantotsav, the pride of Pune to other cities in India as well.

Event Scheduled
Friday 20th January-2023 :
Session 1 : Kaushiki Chakraborty (Vocal )
Session 2 : Rahul Deshpande ( Vocal )
Session 3 : FINALE : Rahul Deshpande and Kaushiki Chakraborty ( First time ever Vocal Duet )
Sat 21st January-2023 :
Sess 1. The Raghu Dixit Project
Sess 2: Pratibha Singh Baghel ( Ghazals)
Sess 3 : Prithvi Gandharva ( Ghazals )
Sess 4 : Finale : Pratibha Singh Baghel and Prithvi Gandharva ( Ghazals Duet )
Sun 22nd January- 2023 :
Sess 1: Madhushree Bhattacharya ( Light Music )
Sess 2 : Vishal Bhardwaj ( Vocal )
Sess 3 : Niladri Kumar ( Sitar)

489 total visits
EVENT
DETAILS
Start Date:

January 20, 2023 17:00:00

End Date:

January 20, 2023 20:00:00

Type:

Promotional

Location:

Pune

Category:

Events

Organizer :

anonymous

Address:

Suryakand kakade Farms: Kothrud, Pune

489 Page

Views